Chris' Object of Automotive Desire - 1/13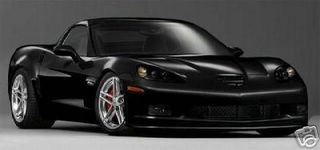 In the dark days of the mid-to-late 1970s, when the Chevrolet Corvette became a fat, posh, sleazy, and slow cruiser, a machine like the 2006 Corvette Z06 would have been unthinkable.

Let's compare a 1978 Corvette to the Z06, shall we?

The 1977 Corvette, with a sub-200-horsepower V-8, struggled to do the 0-60 run in 8.8 seconds and topped out around 120 mph. For that sterling performance, easily attainable nowadays by a run-of-the-mill Hyundai, the 1977 Corvette provided, at best, fuel mileage in the mid teens.

The Z06 has 505 horsepower, does the 0-60 sprint in the mid 3-second range, and nearly breaks the 200 mph barrier. When the '77 Corvette is struggling up to 60 mph, the Z06 has already rushed through 100 mph. And the Z06 can get more than 20 mpg on the freeway.

The Z06's real competition, of course, isn't its forebears - it embarrasses the finest cars in the world. At $75,000, it may not be cheap, but it's a positive blue-plate special compared to the Ferraris, Lamborghinis, Ford GTs, and Vipers that it sprints past.

It's the fastest street Corvette ever made; the fastest street Chevrolet ever made.

Of course, the real question is what the Z06 powertrain could do under the hood of, say, a 1983 Chevrolet Malibu Wagon.